LP MALAMATA SUSPENSION EXCL SHADE DIFFUSER
€809.91 €658.46 (excl. VAT) – €1219.88 €991.77 (excl. VAT)
The range of Malamata lights (named to recall the designer's Israeli roots, drawing on the Hebrew meaning of 'up and down') is characterised by the possibility of a variety of diffuser positions.
The light can be adjusted thanks to a sphere counterweight. Pushing the button on top of the sphere, a spring is released and the counterweight is free to slide on the steam, allowing to change the diffuser position up and down.
B01S22 takes 22cm diffuser & E14 bulb, B01S48 takes 48cm diffuser & E27 bulb.
Diffuser & bulb sold separately.
Designer

:

Studio Shulab

Material

:

Glass, Steel

Ceiling Cup

:

13 x 4cm

Diffuser

:

Ø22cm or Ø48cm (Sold separately)

Lamp Included

:

No

Lamp Holder

:

E14, E27
International Shipping
FREE Delivery on Irish orders
Estimated delivery time varies for each brand.
Delivery may take longer than normal due to Covid-19
Matching Diffusers & Compatible Bulbs: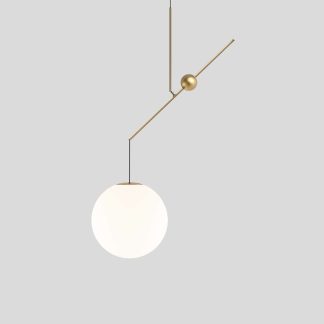 €149.00
€

121.14
(excl. VAT) – €343.00
€

278.86
(excl. VAT)